Vincent Van Goat is a Baby Einstein character.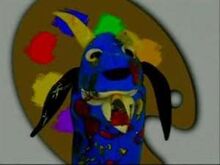 Appearance
Edit
Vincent Van Goat is blue with black ears. Like Bard the dragon, he has yellow horns. In the books and on the cover of Baby Van Gogh, Vincent has a bandaged ear much like his descendant Vincent Van Gogh. He often appears to be smiling.
Vincent Van Goat is the descendent of Vincent Van Gogh.
Vincent Van Goat has a brother named Gobbles Random Goat and a girlfriend named Vivian Van Goat.
Baby Van Gogh
Language Nursery 10th Anniversary 2008 DVD
Baby Vivaldi 10th Anniversary 2008 DVD
Penny's World Of Colors
Numbers Nursery (Mode 2 Grow With Me Only)
On The Go (Mode 2 Grow With Me Only)
Baby's Favorite Places (Mode 2 Grow With Me Only)
Baby WestWorld 3: Discovering Colors
Baby Handel's Water Music
Art Time Classics Video Version
Music Box Orchestra
Baby's First Words